Business
The Masters 2021: Marc Leishman chasing Japan's Hideki Matsuyama, who surges to lead after stunning third round
Hideki Matsuyama sits primed to become a national hero after an incredible post rain delay blitz set up a commanding third round lead at the Masters.
Matsuyama sent Japanese golf fans into raptures with a blistering bogey-free 7-under 65 to move to 11-under 205 as he attempts to become the first men's major championship winner from his country.
The 29-year-old, who made his debut at the Masters as a teenager a decade ago, gained six shots in seven holes after a thunderstorm delay, turning the tournament on its head.
Having been to Butler Cabin in 2011 to collect the low amateur medal, Matsuyama is now primed to return there on Sunday to collect a green jacket.
Birdies at 11, 12, 16 and 17 plus a brilliant eagle at 15 set up a four-shot buffer.
Australian Marc Leishman is part of a four-way tie at 7-under along with England's overnight leader Justin Rose and American duo Xander Schauffele and Will Zalatoris.
Leishman pulled within one shot of the lead on Saturday with an early birdie.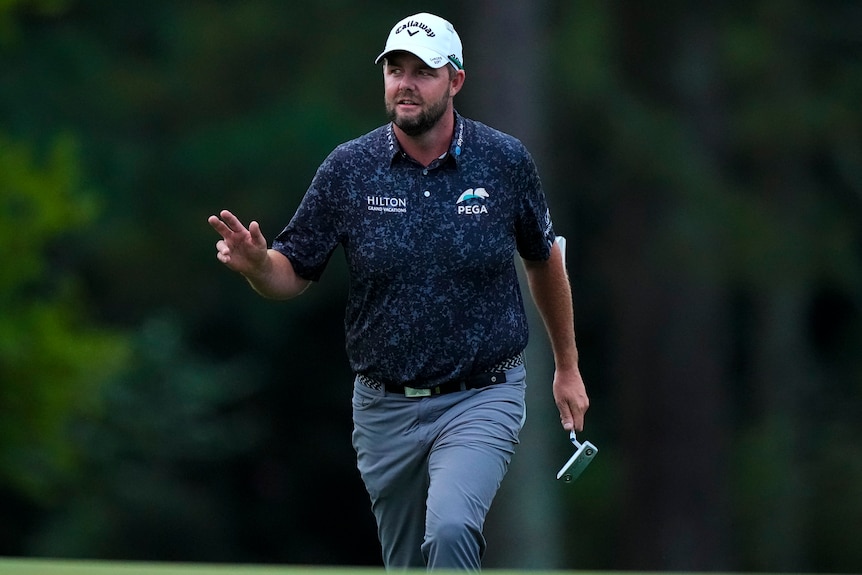 But he then bogeyed the seventh just before play was halted as a storm ripped through the area.
Birdies on the 13th and 15th got him back on track in a solid round of 70.
Rose, who led after both early rounds, was brilliant out of the blocks again but had to battle hard on the back nine for a second successive even-par 72.
Schauffele did his best to stay with playing partner Matsuyama with a 68, while Zalatoris is hoping to be the first Masters rookie to win since Fuzzy Zoeller in 1979.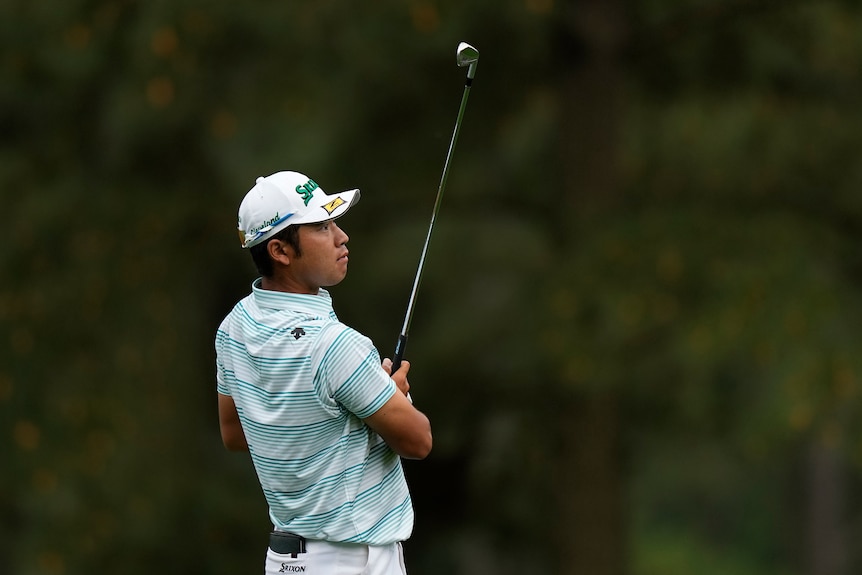 Corey Conners aced the sixth hole in spectacular fashion on the way to a 68 to be sixth at 6-under, a shot better off than Jordan Spieth (72).
It was rough going for 2020 runner-up Cameron Smith, who harboured thoughts of a run up the leaderboard with a birdie on the third before four bogeys soon after skittled his hopes.
A couple of face-saving birdies late in his round for a 73 left him 1-under for the tournament.
Matt Jones (74) is 1-over while Adam Scott, the 2013 champion, had a day to forget with a 7-over 79, leaving him at 10 over.
Look back at how the action unfolded.
Live updates
Pinned
Leaderboard
Hideki Matsuyama -11 (65)
Justin Rose -7 (72)
Marc Leishman -7 (70)
Xander Schauffele -7 (68)
Will Zalatoris -7 (71)
Corey Conners -6 (68)
Jordan Spieth -5 (72)
So that's that from Saturday at Augusta National
And the day belonged to Japan's Hideki Matsuyama.
All day, we saw players either striking the ball well and hitting greens but missing putts or vice-versa, but only one man put both together, especially through the back nine. Matsuyama's streak after the rain delay was flat out unbelievable, taking him from middle of the back the runaway leader in what felt like the blink of an eye. Can he keep that up tomorrow? Who knows. His putting has been historically unreliable, but was bang on today. If he makes putts on Sunday, you'd have to think he can't be headed.
Marc Leishman is right there among the chasing pack though, tied for second. His story was of missed opportunities today – not easy putts, but the 50/50 ones that have to fall for you to win majors. Today they didn't drop, but perhaps they will tomorrow. He's showing no signs of letting up.
Of the others, Justin Rose battled but is still in the thick of it. Will Zalatoris seemed to play better than his round of 71 indicated. Jordan Spieth was an ordeal, but if he'd dropped a couple of putts he could be in there too. Xander Schauffele made a quiet move, but will no doubt be making noise tomorrow.
It's all set up for drama in the last round of the Masters. Just how we like it. Join me on the blog again tomorrow morning, bright an early, as this tournament comes to a thrilling conclusion. See you then.
Two big putts coming up on 18
Rose has left himself a really nasty one down the hill for par, while Zalatori has a very makeable look for birdie. These putts will shape the look of the leaderboard after Saturday and will also shape the look of the pairings for the final round tomorrow.
Rose does it again! How is he still -7? He shoots an even-par 72 today, thanks almost entirely to some unbelievable scrambling on the back nine. He has made some BIG putts to keep himself in the running. Got to take your hat off to him.
And Zalatoris's putt slips past. Bummer. He pars and completes the group tied for second at -7. That's a 71 for him today.
Played, Marc
Rose from deep in the trees on 18
He gets it out, but pins it at the patrons at the back left of the green. Once again, he's doing the up-and-down-for-par dance. Which, as I have said already, is better than the other dance he has been doing.
Zalatori, on the other hand, has a great look at birdie thanks to a fantastic approach. Just past the pin.
The last group make their way up the 18th fairway on Saturday at the Masters.
What's with the coverage Leishman currently running 2nd in the Masters yet hardly sighted in the TV coverage

-Chappy
On the plus side, we've seen lots of Justin Rose practice swings. So that's something.
Come on Leish. For birdie…
This would give him a real good chance of being in the final group tomorrow. About six metres to make it…
Nope. He settles for par and cards a 2-under 70 for his round, still at -7 overall. He's right in this, but the putts will need to fall tomorrow. He left a few out there today.
But Leishman recovers!
That's so, so good out of that fairway bunker. He managed to find the green and stick it on that top ledge, giving him a decent birdie look. One of the tougher chances he's had over the last few holes, but now would be a time to make it.
Rose has also just rescued another par. Real fighting spirit from the Englishman today, though he should hopefully be docked a couple shots for that little hip spin celebration disgrace.
Frustration for Leish
Spieth lips out for birdie on 18
So it's an even par 72 for Jordan Spieth, and he remains at -5. Not out of it, but not really in it right now either. What a weird round that was for him.
Oh, and Leishman just dunked one into the bunker off the tee on 18. Not good.
Leishman for birdie at 17…
Missed. By an inch. So close.
Bogey for Rose
Third time unlucky. His bunker shot wasn't bad, but the putt proved too tricky. Bogey for him, par for Zalatoris.
LEISH! Alert! Leishman has just played a fantastic approach on 17, and has a fantastic look at birdie. Almost a must-make.
More dramas for Rose
Into the front bunker on 16. For anyone else, you'd say that's big trouble, but on this scrambling run he's on you imagine he'll somehow get away with it.
Zalatoris, on the other hand, has a really good look at birdie.
Comfy par from here
Leishman's birdie putt slides past
Bah. The big ones just won't fall for him. Perhaps he is saving them all for tomorrow.
Zalatoris just missed out on a good eagle chance on 15, but he'll close out a birdie. He's moving too.
And Rose saves the par. Two in a row. He won't go away.
Rose has done it again
He's scrambling big time at the moment, but he's doing it so well. Another wonderful chip from nowhere to give himself a good chance of saving an unlikely par.
Speaking of Justin Rose
After having to lay up on 15, he's sent his third shot into oblivion over the back of the green, nearly into the creek at the back. Once again, he'll do very well to save par.
No to this
Don't do that, Justin.
Loading
No eagle for Leishman, but birdie on 15
Inches short of what would have been a massive three on the par-5 15th. Still, he slides up the leaderboard and strolls over to the 16th…
Where he puts himself right within birdie range. Tricky, but a chance. Needs to make it.
Oh, and Spieth just three-putted on 16 for bogey. He has been just exhausting to watch today.
Key Event
Hideki Matsuyama closes out a round of 65 and leads the Masters
A bogey free round from Matsuyama, the first of the week by anyone. He's in at -11 after just the most scintilating back nine. After that rain delay, he was a man possessed.
Xander Schauffele makes his par putt too to go in at -7